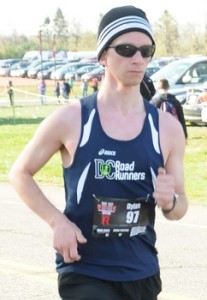 When did you begin running and why?
As a skinny, uncoordinated kid, it was inevitable. I joined the middle school track team and was assigned to sprints. After two years of finishing dead last or close to it in the 100, they moved me to the 1600, which I was slightly less bad at. I've been moving up in distance ever since.
How did you find out about DCRR and when did you join?
I moved to the area in the summer of 2008 and did solo "workouts" like 4×400. Realizing how pathetic that was, I searched online and found Wednesday Night Track. After a few months of peer pressure, I started going to SLR.
What do you do for the club?
I maintain the website, score the Bunion Derby, bring Gatorade to Wednesday night track workouts in the summer, time races, and fill in as SLR leader occasionally.
What are you training for right now?
Once my legs recover from this fall's marathon, I'll start training for the RRCA Club Challenge.
What's your favorite club race?
Bluemont 5K – exactly what a low-key summer series race should be.
What's your favorite part about being a DCRR member?
Chicken fingers at Happy Hour, of course. Having friends that will show up for a workout when it's 95º or pouring rain is a nice perk too.
What's the most important lesson running has taught you?
John Treacy knew what he was talking about when he set down four principles for his training prior to the 1984 Olympics – believe in yourself, know yourself, deny yourself, and be humble.
What race day traditions do you have?
Half a cup of decaf coffee and a Clif Bar.
What's your proudest running moment?
Entering Central Park at mile 24 of this year's New York City Marathon and starting to pass other runners instead of fading like I usually do at that point in a race. Week after week of long tempos, hill repeats, and fast-finish long runs in the heat and humidity paid off.
What's your life like outside of running?
I'm an IT consultant, mostly building and breaking websites. I also enjoy kayaking and backpacking.