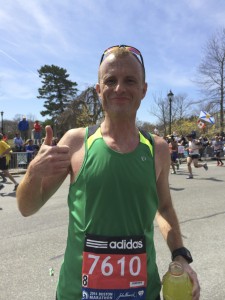 When did you begin running and why?
I started running in 1985 or so…I was spending the summer with my Granny who was English and she kept feeding me too much bacon. So I started running around the field outside her back gate to burn off the calories.
How did you find out about DCRR and when did you join?
I joined DCRR in 2007 (Brian please don't call me out if I am wrong or haven't paid my dues). I moved to DC from Cleveland and the first thing I did was Google "DC Running Clubs." DCRR looked like (and is) the best one so here I am.
What are you training for right now?
Technically nothing. I just got done running the New York Marathon which was epic. I am signed up for the Napa Marathon but haven't run a step since I crossed the finish at New York.
What is the toughest run or race you've ever participated in?
Toughest race ever was the Boston Marathon in 2012. Temperature at the starting line was 80 degrees and 90 by the time we finished. The race in the latter miles started to resemble a battlefield with people dropping and walking heads down unable to run. The upside of all this that I didn't have to buy myself any beer the whole evening out in Boston that night because the locals were so impressed with anyone that actually finished the race.
What's your favorite part about being a DCRR member?
The people of course!! DC Roadrunners are hardcore runners and that's my kind of crowd.
What's your favorite route in the area?
My favorite DCRR SLR run is Marymount College Chain Bridge. You do a bunch of climbing and then you sprint down the hill to the towpath and have no excuse to not go fast to the finish.
What's the most important lesson running has taught you?
Pacing. Life is a marathon. Don't go out too fast and blow up!
What race day traditions do you have?
Burger and beer after the race.
What's your proudest running moment?
Finishing the Boston Marathon this spring which was my 5th Boston. My 1st was in 2006 and I have run it every two years since and would like to continue doing so until I can't (or don't want to).
What's your life like outside of running?
There is life outside of running???
What is one thing you wouldn't run without?
I love my Garmin 910XT and am quite addicted to it. The battery lasts forever, it gives me all the data I want, and so far it has been extremely durable. I do run without it at times but it has been a great tool for me to keep me honest and accountable. A lot of my DCRR friends are on Strava and we keep up with each other's training which is motivating as well. It also helps me pace myself during races because I know if I don't Rich will harass me mercilessly.