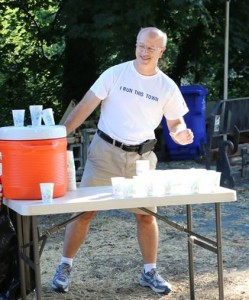 When did you begin running and why?
I did run Cross Country one year in high school, and would run recreationally through college then while in the Army. Living in DC and then in New Orleans I often saw races being conducted for a variety of charitable events, so I started participating in a number of 5ks and 10ks, and even convinced several of my friends to join in.
How did you find out about DCRR and when did you join?
My co-worker, Elizabeth Humphrey, got me interested in helping with the races.
What is the toughest run or race you've ever participated in?
Marine Corps Marathon in 2004. I knew I would not be able to run the entire distance so I set three goals, 1: Run a good half marathon, 2: Get across the bridge before they open it to traffic, and 3: Finish (no time goal set). I was able to run to about the 16 mile mark so I was happy and then started hoofing it. Within a couple more miles I was hating life… but I finished!
What's your favorite part about being a DCRR member?
Helping out at the races and making it a better experience for the runners.
What's the most important lesson running has taught you?
Push yourself, stretch your limits, see where it can take you.
What's your favorite DCRR race?
They are all good.
What race day traditions do you have?
Arrive an hour early.
What's your proudest running moment?
Helping coordinate a 10k run in Panama
What's your life like outside of running?
Quiet
What is one thing you wouldn't run without?
Sneakers?